Dr. Betty Shabazz Delta Academy
Delta Academy G.I.R.L.S  (Growing Into Responsible Leaders Successfully)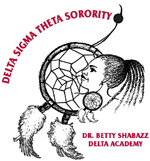 The Dr. Betty Shabazz Delta Academy is a unique program designed for young ladies ages 11-14 years.  The goals of the Academy are to enhance or spark interest in math, science, technology and/or careers where minority women are scarcely represented.  The Dr. Betty Shabazz Delta Academy's aim is to shape well rounded young women by focusing on African American history, literacy, character development, healthy choices and service learning.  Many young ladies have tremendous potential, however they are not afforded the opportunity to broaden themselves, express their curiosity, and experience new and different things early on.
The Delta Academy was created out of an urgent sense that bold action is needed to save our young females from the perils of academic failure, low self-esteem, and crippled futures. Delta Academy is an opportunity to enrich the education that our young teens receive in public schools across the nation. During Academy sessions, activities are centered around math, science, technology, book club, and African American history.  In addition to building character, self-esteem, and giving back to the community through service learning, field trips are planned to museums and other sites designed to enhance the knowledge of the participants in the identified focus areas.  These young ladies experience endless possibilities.
The symbol for the Delta Academy is the Dream Catcher, which in Native American culture is believed to possess the power to capture bad dreams, entangling them in a web; thus allowing only the good dreams to pass through the center of the dream hoop into the person's being.
For more information on these and other programs sponsored by the Nashville Metropolitan Alumnae Chapter, please contact us at dstnmac@yahoo.com or please see our Event Calendar for specific dates and times.