Empowering Males to Build Opportunities for Developing Independence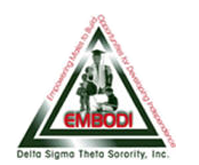 The EMBODI program is a new national initiative to address the plight of African American males.  This year, the chapter will sponsor a workshop to increase awareness of the critical issues impacting African American men that are 14 to 18 years of age.
For more information on these and other programs sponsored by the Nashville Metropolitan Alumnae Chapter, please contact us as dstnmac@yahoo.com or please see our Event Calendar for specific dates and times.